Get your CRM data in shape

Keeping your CRM data in top shape can be quite a challenge. Data quality issues such as inconsistent or invalid data, poorly formatted records, and contact duplicates are just a few examples of the obstacles that might plague your CRM. These errors can lead to unreliable data, hindering your marketing efforts and ultimately impacting your return on investment (ROI).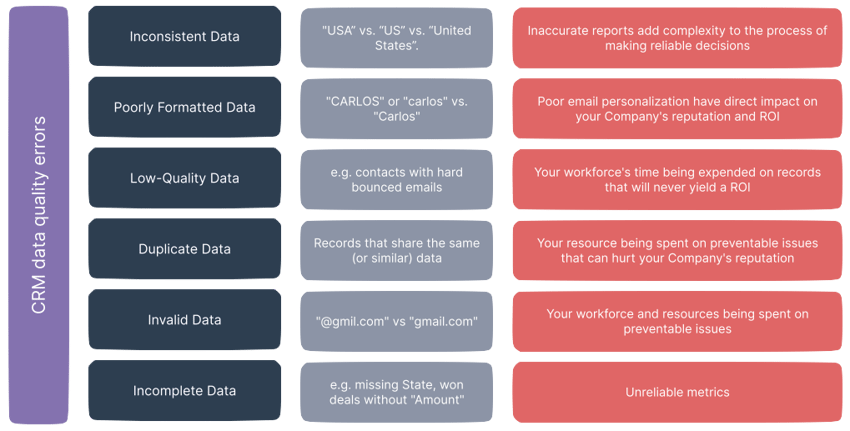 We understand that having high-quality data directly impacts your performance. It enables you to launch effective marketing campaigns, get the right context to close more deals, and provide the exceptional service experience your customers expect. With our Data services, our goal is to provide you with valuable insights and streamline your data management processes by incorporating an iterative improvement cycle around your CRM data.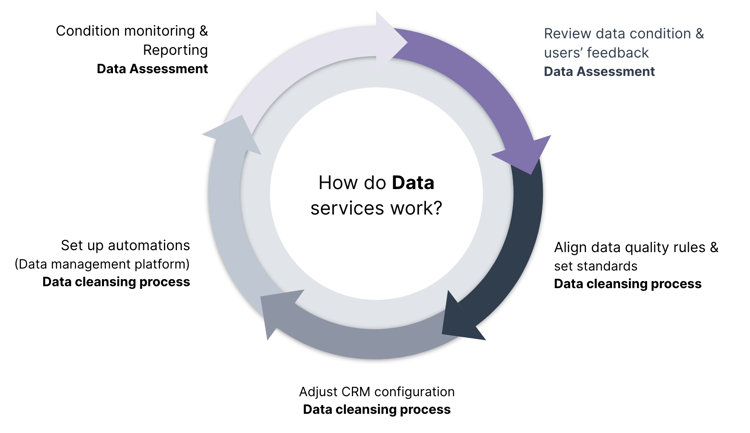 Prepare yourself to make brilliant, data-powered decisions that will skyrocket your team's performance.
What magic can we work on your data?
An overview of the activities provided, organized by modules.
In addition to these specific activities, we monitor and provide insights on the condition of your data (Data Assessment), as well as we collaborate closely with users to plan corrective actions and efficiently implement Data Cleansing Processes.
Our ongoing services

Discover our services designed to enhance the quality of your CRM data. From identifying common to complex data issues, we fix and maintain your data, ensuring it remains clean and accurate. Consider us an extension of your team, working together to keep the integrity and precision of your data.
One-time projects
Our team will analyze your data and work with you to set up specific data cleansing automations that address errors and inconsistencies, aligning with your priorities and leveraging our best-practice recommendations. Partner with us for a one-time Insycle implementation project, and let our experts transform your CRM data into a powerful asset for your company's growth.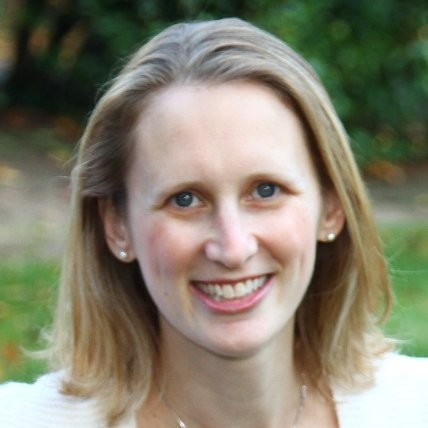 Shoshana Glickman
Marketing Manager
We were very happy with the service!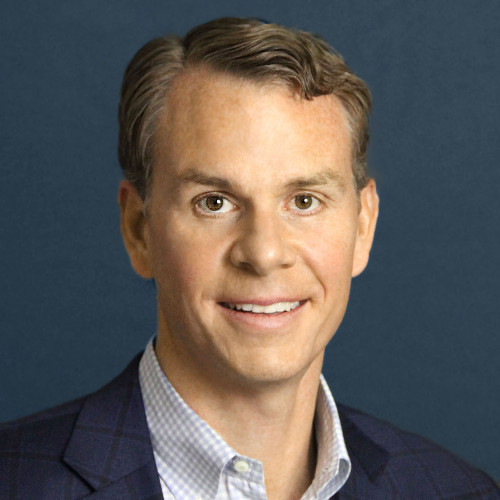 They did a great job. Very professional.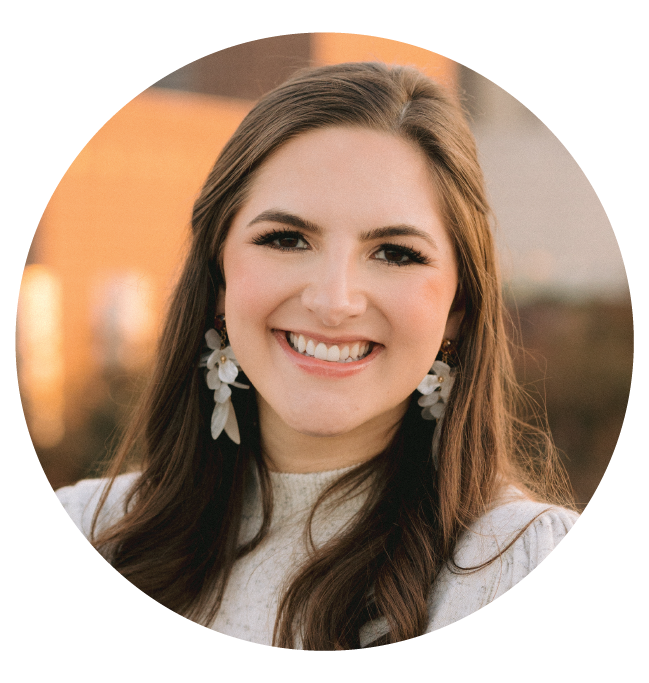 Kylee Rocher
Marketing Automation
Carlos was incredible to work with! Before working with Binomial, we really struggled with duplicate contacts and accounts with our two CRMs. Carlos helped us create a tailored plan to address our data issues and worked with us in a timely manner to get the job done. Not only did Carlos complete the work efficiently, but he also made sure we understood how he was doing it, so we could maintain processes after the project was over!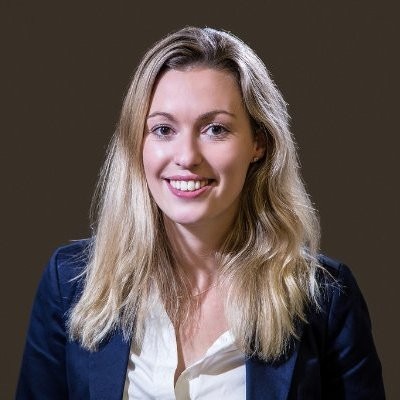 It was an absolute pleasure to work with Carlos. He was clear about the work that was needed, kept us updated, and was organised and efficient in his delivery. I'd definitely use Binomial again.
What are the benefits of using Data services?
Accurate, timely, consistent, reliable, and complete data has many benefits to the business.
Who benefits from these services?
Sales Operations and CRM administrators will get the data in proper conditions to implement sales processes and to prepare data for reports.

Sales Reps and Managers will be able to streamline data capture and to manage their pipeline.

Marketers will dedup contacts and companies, import and enrich data, and bulk update contacts' data to manage campaigns.

Customer Success Managers will segment and manage users, analyze data, and import data.
How secure are these services?
Security is our top priority and we're committed to delivering secure services to our customers.
We use Insycle as data management platform, which has A+ SSL rating by Qualys SSL Labs. All data is encrypted in transit and at rest using TLS 1.2 and AES256.
All data and servers are located in Google Cloud Platform data centers that completed ISO 27001, ISO 27017, ISO 27018, SOC 1, SOC 2, and SOC 3 certifications.